QLD FIRST HOME BUYERS
At U1st Realty: We love to assist first home buyers every single step of the way.
We aim to be the 1st choice destination for 1st home buyers
At U1st Realty, we've successfully helped many 1st home buyers achieve their dreams of home ownership. We do so by keeping it simple and leaving out all that complicated jargon, because, complicated is just not us.
We aim to build a reputation as one of Australia's most reliable, affordable and innovative first home builders, but that's because we make the ownership journey easier.
Where would you like to build?
FEELING UNSURE?
If you aren't sure on what you want as a First Home Buyer like:- the property type or the location you want, that's okay.
At U1st Realty, we really want to help all first home buyers and if you aren't sure what you want, we can help with the decision making process.
We start by providing you with a no charge assessment of your borrowing capacity so you know your actual maximum Purchasing budget.
Once you know your budget, we can assist you determine what property type you want and where you want to live
You can book a complimentary, no obligations consultation with U1st Realty to find out more its easy.
Click Here: U1st-FHB-Bookings@u1strealty.com.au
------
Qld Government 1st Home Buyers' Assistance
The $20,000 QLD First Home Buyers Grant, plus there is also the QLD First Home Buyers Stamp Duty Rebate which is for those buying an established home or vacant land.
You could be eligible for one or both of these incentives.
If you are able to claim both, you could get up to $28,750 from the QLD government to go towards your new home.
These Grants are the:
1. QLD First Home Buyers Grant (also known as the Queensland Building Grant or FHOG) this is a $20,000 grant, specifically for people who are building or buying a new home; and/or;
2. QLD First Home buyers Stamp Duty Rebate, this is up to $8,750 if buying an existing home valued at under $550,000 orup to $7,175 if buying a block of vacant land under $400,000.
As at July 2017, the QLD government have had 4,900 applications, worth $98 million, since the $20,000 Building Grant Scheme started on the 1st July in 2016… so it's been incredibly popular!
IR HOMES:
If You Can't Afford A House?
If you live in Queensland, you can use the $20,000 first-home buyer grant to put towards building a granny flat instead.
As bizarre as it sounds, Allan Pearson from IR Homes has confirmed that first-home buyers who cannot afford a house can still access the $20,000 Queensland Government grant if they build a granny flat.

He said, "This is a fantastic opportunity for first home buyers who are unable to afford the cost of their own home and LAND, as they can build a quality IR Homes' Granny Flat on a relative's land.
It gives excellent, flexible, long-term opportunities for families at all stages of life … parents can buy equity, they can downsize into the granny flat as their children's families grow, it can be rented out, used for other siblings … the opportunities are endless."
Send your Inquiry now:-
IRH-FHB-GrFlats@u1strealty.com.au
or Mobile: 0418 66 11 25
Buying Your 1st Home
WHAT TYPE OF PROPERTY ARE YOU THINKING ABOUT?
BRAND NEW HOME
Are you searching for a brand new Home & Land Package or a Ready-Built New Home that is eligible for the First Home Owners Grant?
ESTABLISHED HOME
Not eligible for the 1st Home owners grant and want to save money by buying an established (existing) property to make your very own home?
UNSURE?
The comparison between buying an existing home and a new one indicates that the critical issue are:
1. How much the loan repayments represent of the buyer's gross income

2. The monthly repayments and whether there is sufficient buffer for the times when you may need access to cash from your income

3. Personal preferences in home location and quality
New home purchase:
Advantages
• New home
• Little repair or maintenance required
Disadvantages
• Possibly a more remote location
• Higher monthly repayments
• Higher proportion of income goes
to repayments
• Additional costs of landscaping, driveway, fencing, paths
• Smaller to no financial buffer for interest rate increases, unemployment, children, discretionary spending
• Less opportunity for savings/investment
• Greater chance of housing stress
Established home purchase
Advantages
• Possibly better location closer to friends, family, services, transport and shopping
• Lower repayments
• Smaller proportion of income goes to repayments
• Established yards, fencing, paths
and driveway
• Potential surplus income for extra loan payments, emergencies or discretionary spending
• Financial buffer for interest rate increases, unemployment, or children
• Greater opportunity for savings
and investment
• Less chance of housing stress
Disadvantages
• Older home
• Need for repairs and maintenance
Awesome FHB Deals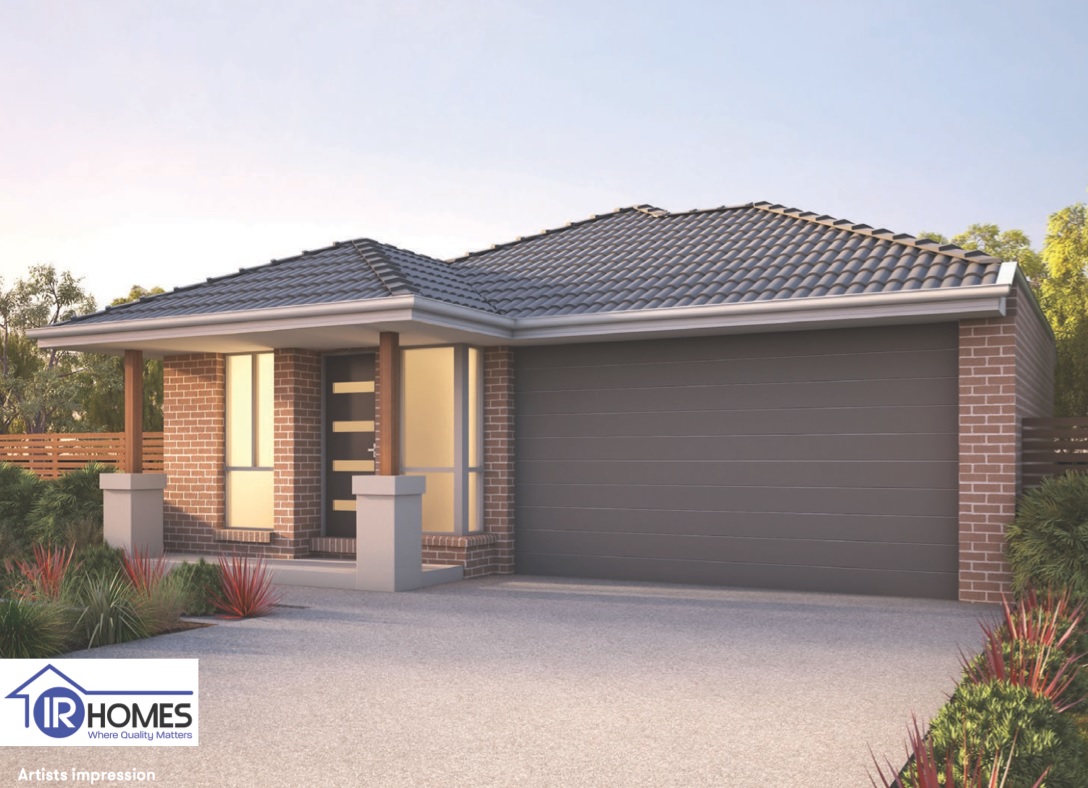 4 Bed 2 Bath 1 Living 2 Garage
House & Land Package
Fixed Price: $373,980
H&L PACKAGE DEAL OVERVIEW
House Area: 179m2 - $222,980
Land Area: 360m2 - $151,000
49.7% Site Coverage
QUALITY INCLUSIONS
Fixed site costs, no surprises
Carpeted and tiled throughout
2590mm nominal ceiling height
Manufactured stone bench top to kitchen, bathroom & ensuite
Quality stainless steel appliances
Superior fittings and fixtures
Fly screens & security screens to external doors
Blinds throughout
Covered alfresco
Turfed & Landscaped
Driveway & pathways
Fully fenced
Clothesline & letterbox
Preselected colours; Interior designers have created stylish interiors
--------------------------------